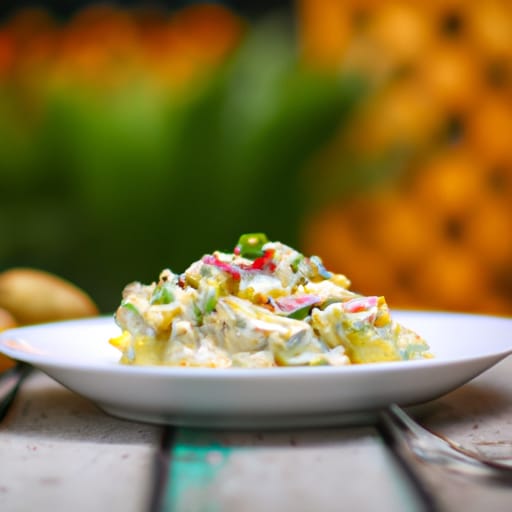 This classic potato salad recipe is the perfect addition to the table at any gathering. With its creamy mayo-based dressing and hard-boiled eggs, it's sure to be a crowd-pleaser.
I used to be hesitant about trying classic potato salad because of my aversion to mayonnaise, but a few summers ago, I decided to give it a try and I've been hooked ever since. Don't get me wrong, I still love a good German-style potato salad with its vinegar-based dressing, but there's something about the creaminess of a mayo-based dressing that can't be beat.
Every family has their own signature potato salad recipe and mom's is always the best, but this recipe is my personal favorite. It's creamy, tangy, and has just the right balance of flavors and ingredients.
One of the great things about this recipe is that it's easy to prep ahead of time. You can hard-boil the eggs up to 5 days in advance and keep them in the fridge until you're ready to use them. Similarly, you can cook the potatoes the night before and store them in the refrigerator until you're ready to assemble the salad. And, finished potato salad stays fresh in an airtight container in the refrigerator for over a week, so it's great for meal prep too.
Ingredients:
Russet potatoes
Hard-boiled eggs
White onion
Green onion
Cooked bacon (optional)
Chives (optional)
Fresh dill (optional)
Bell peppers (optional)
Celery seed (optional)
3 stalks of chopped celery (optional)
Mayonnaise
Rice vinegar
Whole grain mustard (or spicy brown mustard, yellow mustard, or dijon mustard)
Dill relish
Sea salt
Black pepper
Sachili Original
Instructions:
Begin by hard-boiling the eggs. Place the eggs in a large pot and cover them with water. Bring the water to a boil and let the eggs cook for 10-12 minutes. Once the eggs are done, transfer them to an ice bath to cool. Once cooled, peel and chop the eggs and set them aside.

Next, peel and chop the potatoes into 1-inch pieces. Boil a large pot of water on the stovetop and add the potatoes to the pot. Cook the potatoes for 15 minutes or until they are soft when poked with a fork. Drain the potatoes in a colander and allow them to cool.

While the potatoes are cooling, prepare the dressing. In a small bowl or measuring cup, mix together the mayonnaise, rice vinegar, mustard, dill relish, salt, pepper, and paprika. Set aside.

Once the potatoes are cool enough to handle, chop them into bite-sized pieces and place them in a large bowl. Add the chopped eggs, onions, and any additional ingredients you'd like to include (optional) to the bowl with the potatoes.

Pour the dressing over the potato salad and mix everything well until it's creamy and well-mixed. 

Taste the potato salad for flavor and add more Sachili Original and salt to your personal taste preferences. Refrigerate until ready to use. Serve potato salad with your main entrée, and enjoy!
This recipe is perfect for leftovers! Store any remaining potato salad in a sealed container in the refrigerator for up to a week. Enjoy this delicious, creamy potato salad at your next barbecue or gathering. And there you have it, the perfect recipe for a classic and delicious potato salad that everyone will love!